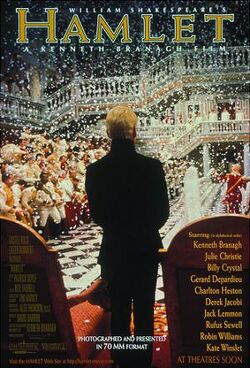 Hamlet (1996) is an American film adaptation of Shakespeare's Hamlet, directed by and starring Kenneth Branagh (as Hamlet). Other actors of note include: Kate Winslet, Robin Williams, Gérard Depardieu, Jack Lemmon, Billy Crystal, Charlton Heston, and Judi Dench among others.
Kenneth Branagh -as- Prince Hamlet
Derek Jacobi -as- King Claudius
Julie Christie -as- Gertrude
Richard Briers -as- Polonius
Kate Winslet -as- Ophelia
Nicholas Farrell -as- Horatio
Michael Maloney -as- Laertes
Rufus Sewell -as- Fortinbras
Robin Williams -as- Osric
Gérard Depardieu -as- Reynaldo
Timothy Spall -as- Rosencrantz
Reece Dinsdale -as- Guildenstern
Jack Lemmon -as- Marcellus
Ian McElhinney -a- Barnardo
Ray Fearon -as- Francisco
Brian Blessed -as- the Ghost of Hamlet's Father
Billy Crystal -as- the First Gravedigger
Simon Russell Beale -as- the Second Gravedigger
Don Warrington -as- Voltimand
Ravil Isyanov -as- Cornelius
Charlton Heston -as- the Player King
Rosemary Harris -as the Player Queen
Richard Attenborough -as- the English Ambassador
John Gielgud -as- Priam
Judi Dench -as- Hecuba
John Mills -as- Old King Norway
Ken Dodd -as- Yorick
Director: Kenneth Branagh
Producer: David Barron
Writers: William Shakespeare (play); Kenneth Branagh (screenplay)
Music: Patrick Doyle
Cinematography: Alex Thomson
Editing: Neil Farrell
The film is notable as the first unabridged theatrical film version of the play, running just over four hours.
The longest screen version of the play prior to the 1996 film was the 1980 BBC made-for-television version starring Derek Jacobi, which runs three-and-a-half hours.
The play's setting is updated to the 19th century though retains Elizabethan English.
Blenheim Palace is the setting used for the exterior grounds of Elsinore Castle and interiors were all photographed at Shepperton Studios, blended with the footage shot at Blenheim.
Hamlet was the last major dramatic motion picture to be filmed entirely on 70 mm film until 2012, with the release of Paul Thomas Anderson's The Master.
Hamlet was not a box office success, grossing just under $5 million on a budget of $18 million.
Ad blocker interference detected!
Wikia is a free-to-use site that makes money from advertising. We have a modified experience for viewers using ad blockers

Wikia is not accessible if you've made further modifications. Remove the custom ad blocker rule(s) and the page will load as expected.