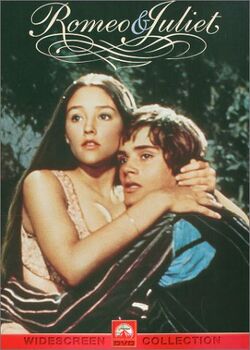 Romeo and Juliet
(1968) is a British-Italian romance film based on
Shakespeare
's
Romeo and Juliet
, directed and co-written by Franco Zeffirelli, and starred Leonard Whiting and Olivia Hussey.
Romeo -as- Leonard Whiting
Juliet -as- Olivia Hussey
Mercutio -as- John McEnery
Friar Lawrence -as- Milo O'Shea
The Nurse -as- Pat Heywood
The Prince -as- Robert Stephens
Tybalt -as- Michael York
Benvolio -as- Bruce Robinson
Lord Capulet -as- Paul Hardwick
Lady Capulet -as- Natasha Parry
Lord Montague -as- Antonio Pierfederici
Lady Montague -as- Esmeralda Ruspoli
Paris -as- Roberto Bisacco
Director: Franco Zeffirelli
Producers: John Brabourne, Anthony Havelock-Allan
Writers: William Shakespeare (play); Franco Brusati, Masolino D'Amico, Franco Zeffirelli (screenplay)
Music: Nino Rota
Academy Awards
Edit
Wins-
Best Cinematography
Best Costume Design
Nominations-
Best Director
Best Picture
This version was popular among teenagers of the time partly because the film used actors who were close to the age of the characters from the original play for the first time.
Laurence Olivier spoke the film's prologue and epilogue and reportedly dubbed the voice of the Italian actor playing Lord Montague, but was not credited in the film.